Vintage Computer Festival East 8.0

Hello world! Select a link from the right-side menu to learn about our exhibits, lectures, workshops, etc.

VCF East news - event flier - press release - Facebook - Twitter

The eighth Vintage Computer Festival East will be held on Saturday, May 5th and Sunday, May 6th, at the InfoAge Science Center, 2201 Marconi Rd., Wall, New Jersey.

Each day begins at 9:30am with a brief opening session. Lectures and workshops last until 2:00pm. The exhibit hall and marketplace runs from 2:00pm until 7pm Saturday, and 2pm until 5:30pm Sunday. We anticipate 20-30 exhibitors. There will also be vendors, consignment, a book sale, prizes, food, museum tours, and more.

Tickets are $10 for one day, $15 for both days, and FREE for ages 17 and younger. Parking is free.

Scroll down to read the latest VCF East 8.0 news and announcements.

---

Meet our sponsors!

---

VCF East 8.0 Headline News

General

Sessions

Workshops

Exhibits

Tours

Vendors

Directions

Lodging



---

Events

Blog

Library

Gazette

Gallery

Projects

Donate

Sponsors

Press

Mailing List

Links

FAQ

Contact

Login


Dr. Thomas Kurtz, who co-invented the BASIC programming language while at Dartmouth University in 1964, will give the VCF East 8.0 keynote lecture at noon on Saturday, May 5th. Details to come ...
Dan Kottke was Steve Jobs' college buddy, India travel companion, Apple 1 board builder, and Apple employee #12. He helped design the Apple II series, Apple III, and Macintosh. He will lecture at the VCF East 8.0 at 12:30pm on May 6.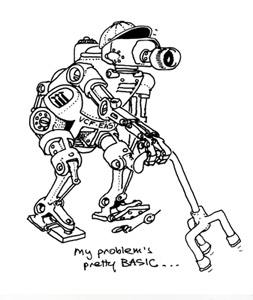 This year's VCF East includes a wonderful lecture series. There will be lectures about analog computing, Apple, Babbage, BASIC, Commodore, and more. Check it out.
Past VCF East attendees told us they wanted more how-to classes, so we obliged! VCF East 8.0 has classes about maintaining systems like the Apple II series, Commodore 8-bit series, minicomputers, and S-100 systems. There are also classes for chiptune music creation, learning to solder, software restoration, and vector graphics. Check it out here.
ACSNJ was the first computer club in New Jersey. It first met on June 13, 1975. This panel is a reunion, with several of the attendees of that first meeting! Come find out what it was like to join one of the first microcomputer clubs.
George Beker's Exclusive "VCF Bot" for VCF East 8.0 T-Shirts
George Beker, who famously designed "Beker Bots" for Creative Computing magazine and the BASIC Computer Games books, has contributed an exclusive "VCF Bot" for the Vintage Computer Festival East 8.0 t-shirts. We are honored to be working with Beker on this project!
Build your own vector graphics kit for your favorite vintage computer! This workshop is a separate $89 admission. Click the headline above for details. The class is taught by the kit's designer, Dan Roganti, who also led last year's "Build your own transistor-logic circuit" workshop.
Support the Rutgers University Vintage Computer Club at VCF East 8.0
Are you a Rutgers graduate? Have kids who went there? Or just want to support the local State U.? Rutgers now has its very own vintage computer club. They'll exhibit for the first time at VCF East 8.0. Come visit and support a new generation of collectors!
Vintage Computer Festival East 8.0 Thanks Our Sponsors!
We thank our sponsors! VCF East 8.0 is sponsored by MARCH and VintageTech. Our t-shirt sponsor is Eli's Software Encyclopedia. Other sponsors include the Trenton Computer Faire, Vintage Computer Forum, and Western Design Center. Our event venue is the InfoAge Science Center. Please visit their links!
Would you like to be notified of VCF events and activities? Sign up for our mailing list!
---
[Events] [Blog] [Library] [Gazette] [Gallery] [Projects] [Donate] [Sponsors] [Press] [Mailing List] [Links] [FAQ] [Contact]
---
Copyright © 1997-2016 Vintage Computer Festival
Vintage Computer Festival, VCF and the VCF logo are trademarks of VintageTech